As you prepare for your upcoming Trade Exhibition, there could be so many thoughts entering your mind, and many other aspects that you may not yet have considered.
It is so easy to be drawn into the one-upmanship that develops between competitors, but this is never really going to make the difference between more or less attraction to your display stands. It will however end up putting your exhibition design to somewhere way beyond your intended budget.
Rather than trying to outshine any competitors, it is perhaps more important to be yourself. Display the company as it genuinely is and ensure that your own presence will be what makes the difference.
Try to find the balance between sparsity and overcrowding. Work out how many people you will have on the front line at any one time and make sure there is enough room for them to interact with your potential visitors.
You want to be able to demonstrate your product without your visitors feeling pressured, yet on the other hand, you do not want the stand to appear deserted to any passers-by.

Of course, there are many tips and tricks to having success with your display stands. If this is your first venture into Trade Shows, then it might be wisest to invest some of your budget into hiring professional event decorators.
An Event Decorator will be able to advise you more comprehensively how to make the best use of any available display design, how best to set up your lighting to show your product off to it's most optimal, and how to create the right ambiance for delivering your message to any interested visitors.
A thought that enters most exhibitor's minds is the promotional gifts. In many cases, a budget can become very strained if gifts are placed high on the agenda. Of course, everyone likes to find freebies at display stands, but most will end up in the hands of trophy hunters rather than with your potential customers.
It is always more preferable to spend any budget in producing professional literature that has a use beyond just this one day. However, you should always plan well ahead for this provision and ensure that any such literature is fully proof read with enough time for amendments, should anything be found to be wrong. After all, if you don't find the errors, then it is quite likely that your competitors will be amongst the first to sample your shiny new brochures, and definitely amongst the first to point out reasons why you should take them off your display stand.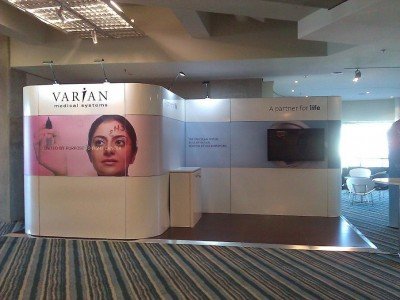 If at all possible, you should ideally visit the event venue beforehand. You will no doubt have an event map with your exhibitor information but this doesn't tell the full story. by visiting the venue, you will be able to anticipate the exhibition design better, look at the natural footfall, where most people will arrive from, the likely places they will visit, i.e. toilets and cafe bars, then plan around these facts. It is not necessarily wise to be right next to either of the above mentioned for obvious reasons but somewhere in the main flow of traffic is definitely desirable.
Then, once you are happy with your choices, your location and your size of exhibition stand, don't forget to tell all of your customers about the event. You will probably be given free tickets to hand out. These are not best used by being given to members of your own staff, but much more valuable by being given to those customers who may need just a little bit of a push into your direction.
If managed correctly, an exhibition can be both fun and rewarding on many levels. The one true way of making the most of this experience, is as mentioned before, using the right people such as event decorators to deliver the perfect event.
Contact the team at Stand out design for your next tradeshow
Here is a video of a USA exhibition hall being built. The time shots are wonderful. Enjoy