What we do
Exhibition Stands
Want to create a high quality design and build stand that is efficient, beautiful, cost effective and durable? Hiring our Aluvision system is your answer.
It's a bit like a big Meccano set, so we get to be kids everyday building big, fun and functional stuff.
Aluvision has the ability to incorporate curves, printed boards, fabric, light boxes and impressive LED tiles within the system. Your stand design options are almost endless. Used by International Brands such as Royal Canin, Samsung, Philips Avent and Nintendo, the Aluvision framing system will deliver a high quality finish that represents your brand, making it STAND OUT.
Although the options Aluvision provides are almost endless, we don't stop there! We're great at building transportable, collapsible structures out of clever materials like aluminium extrusions, fabric tubing systems, acrylic and fibreglass.
Check out our Instagram to see some of the design possibilities and our latest work.
GET IN TOUCH
LED tiles
Boost your exhibition or activation presence with these spectacular LED video walls, that seamlessly integrate into our Aluvision frame system.
The 500mm square tiles can be installed together as a video wall, or scattered throughout your installation to bring a digital element to your design.
We're really excited about this innovative new product and will happily brag to you about its features if you would like to learn more. They're also useful for an afternoon tea break Nintendo Switch session.
Let us know if you'd like an invite.
GET IN TOUCH
Light Boxes
Our newest edition to the collection, these light boxes will bring your exhibition or activation to life.
The 1000mm x 2260mm light box is portable and easy to install. Simply place the fabric banner with any custom print and then you are good to go.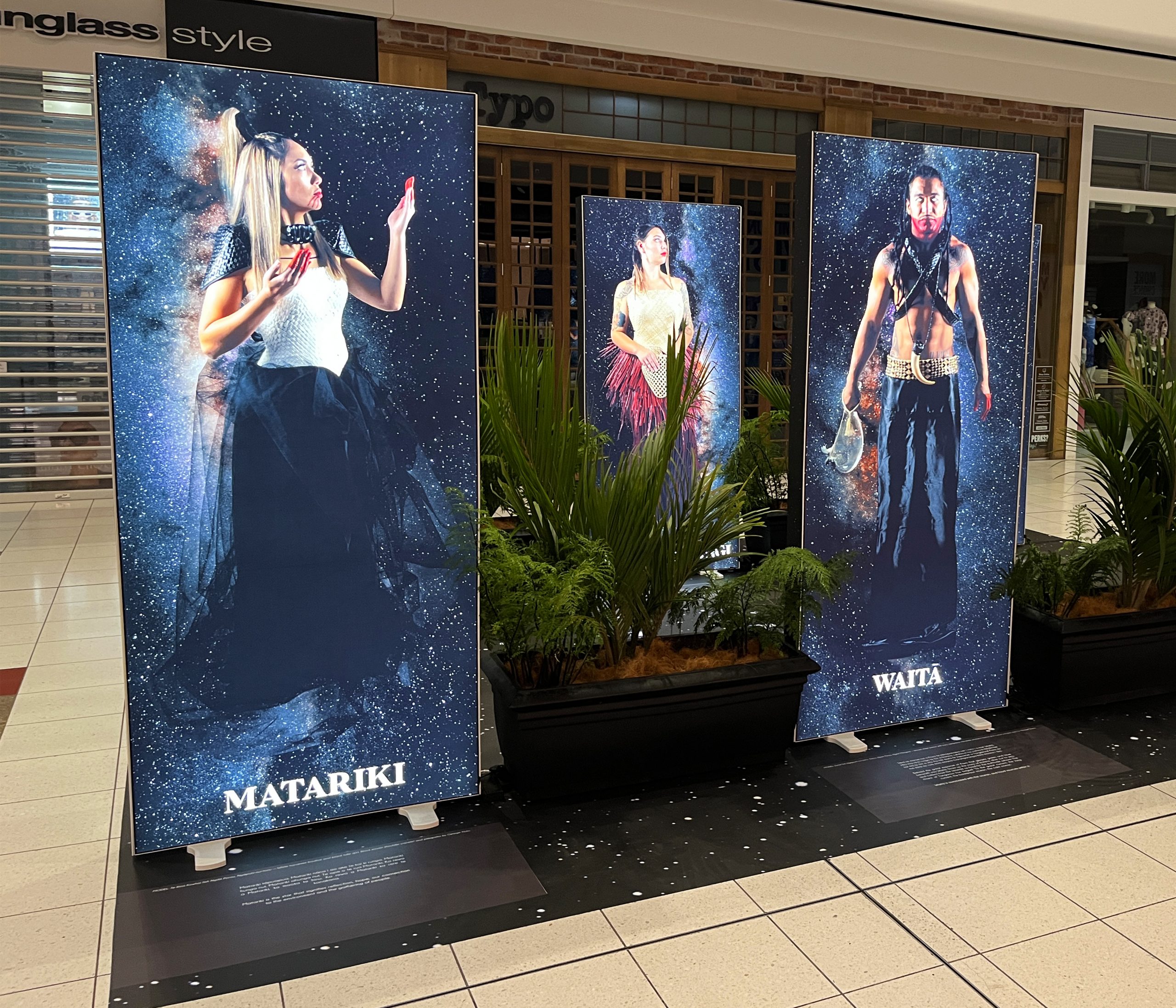 GET IN TOUCH
Activations and Pop Ups
The Aluvision framing system is perfect for your short to mid-term campaign.
You can create an impressive, hard wearing bespoke fit-out, with an investment more in line with the length of the campaign.
We can build counters, plinths, walls and POS displays, with the same look and finish as the available cabinetry and built options.
As our parent company, Celebrations Group, is the leading supplier and installer of Christmas Decorations and Santa Sets throughout New Zealand, our team are familiar with Shopping Precincts and Malls throughout the country.
So, if you're thinking about an activation, get in touch and we can make the introductions.
GET IN TOUCH
Events, Seasonal Decorations and Weird Stuff
We've got a bit of a reputation around town for designing and installing venues for a range of events and occasions. Including Christmas, Chinese New Year, Matariki and all types of Conferences.
We've wrapped the Auckland Ferry Terminal up like a present, built a giant gift box full of helium balloons ready to burst on cue. We even built a 5m LED lit DNA structure to hang over a forensics conference.
We can help create your ideas or come up with some funky ones for you.
Either way, get in touch!
GET IN TOUCH
Holocube
This weird and wonderful little box can add a touch of interest to your exhibition stand or event.
Got a product in development without a physical sample to display?  Want to show someone how your product is put together?
Talk to us about Holocube.
GET IN TOUCH
Storage, Logistics and Reach
With full warehousing and logistics facilities, we can store your stand or activation graphics for the next time you want to build a stand.
We can ship a stand around New Zealand and the world.
Our network of installation professionals can install anywhere in New Zealand. If you'd like an Aluvision stand built in Australia to maintain the look of your brand internationally, we know the good guys there too.
GET IN TOUCH
Get in touch
Phone: 09 302 8797
Find Us
55 - 57 Patiki Road, Rosebank, Auckland, 1026 PO Box 56666 Dominion Rd
COPYRIGHT © STANDOUT DESIGN 2019 | ALL RIGHTS RESERVED | PRIVACY POLICY